This was the first episode of Stripped Sounds to air on Digitally Imported. It aired on Deep House, which seemed like a good idea until I played Cirez D. Oops.
1. James Welsh "Sky" [HYPERCOLOUR]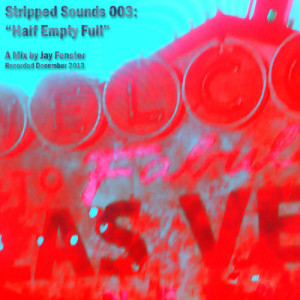 2. Joris Voorn "Ringo" (Rework) [GREEN]
3. Loz Goddard "Persistence" [LUVBUG]
4. Francesca Lombardo "What to Do" [CROSSTOWN REBELS]
5. Tiga & Audion "Let's Go Dancing" (Solomun Remix) [TURBO]
6. Claptone feat. Jaws "No Eyes" (Mickey Remix) [EXPLOITED]
7. SQL "Surrender" [GEM]
8. Midland "Tape Burn" [AUS]
9. Maceo Plex, Maars feat. Florence Bird "Going Back" (Dub) [ELLUM]
10. Eric Sneo "Pleroma" [MB ELEKTRONICS]
11. Ian O'Donovan "Uprising" [KMS]
12. Manuel de la Mare "Very Bitch" (Olivier Giacomotto Remix) [303LOVERS]
13. Mark Fanciulli "Presets" [SAVED]
14. Daniel Dexter "Why So Serious" [POKER FLAT]
15. Martina Topley Bird, Warpaint, Mark Lanegan "Crystalised" (Agoria Remix, Dixon Edit) [NO. 19]
16. Justin Jay "Static" [DIRTYBIRD]
17. Ali Love "Another" [CROSSTOWN REBELS]
18. Alex Stein "The Cluster" [SKULL FACTORY]
19. John Digweed & Nick Muir vs. Guy J "Heaven Scent" [BEDROCK]
20. Marco Bailey "World TV" [MB ELEKTRONICS]
21. Secret Cinema "Supertek" [COCOON]
22. Cirez D "On Off" (Sebastien Leger Remix) [MOUSEVILLE]
23. Mihai Popoviciu "Transitions" (Bootleg Mix) [TOOLROOM]
24. Roland M. Dill "Tzycho" [HERZBLUT]
25. Solee "Sommerliebe" [PARQUET]
26. Gilbert Le Funk "Do It All Night" [LA MUSIQUE FANTASTIQUE]
27. Konstantin Yoodza, Idriss Cheback "Fata Morgana" (Plus, Minus Remix) [SPHERA]
Aired originally on Digitally Imported Deep House on Monday, December 16, 2013. Stripped Sounds 003 was mixed on December 7, 2013 on a Traktor Kontrol S4 with Traktor Scratch Pro 2.
Podcast: Play in new window | Download | Embed